May 2022
Winners of the 31st Annual Zaner-Bloser National Handwriting Contest Announced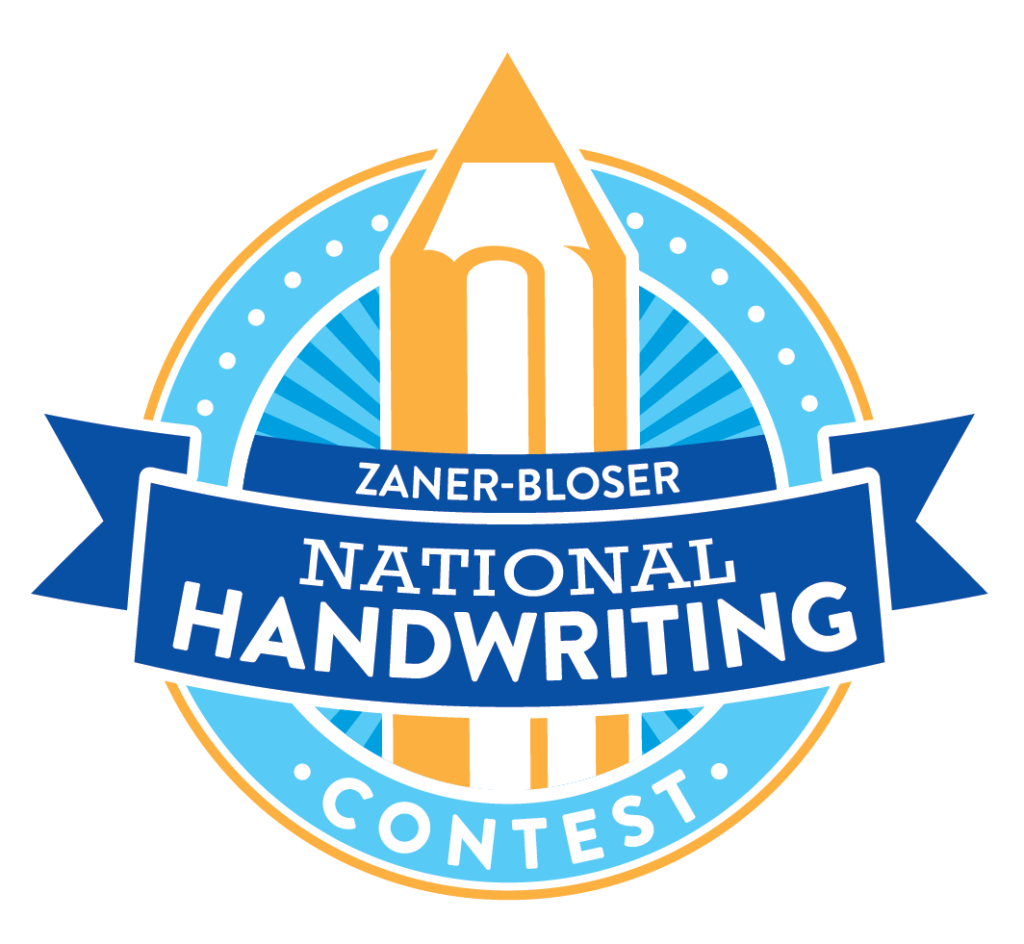 Contest Highlights
Zaner-Bloser has announced the winners of its 31st annual Zaner-Bloser National Handwriting Contest.
Nine students, one in each grade between kindergarten and 8th grade, have been named the Grand National Champions, meaning they had the best handwriting among all entries across the U.S. in their respective grades.
Another nine students in kindergarten through 8th grade were chosen as the semifinalists.
This year's winners come from 15 states. Three of them were semifinalists in the 2021 contest.
Two students, one from New Mexico and another from Ohio, were recognized as the winners of the Nicholas Maxim Award, which is a separate category for students with special needs.
These 20 winners were chosen from the 2,654 entries in this year's competition.
Approximately 75,000 students participate at the school level each year.

 

Students in kindergarten through 2nd grade compete in the manuscript (print) category, while students in grades 3 through 8 compete in the cursive category.
All students write the sentence, "The quick brown fox jumps over the lazy dog" because it contains every letter of the alphabet.
A panel of judges chooses the winners based on Zaner-Bloser's four keys to legibility: the shape, size, spacing and slant of the letters
Zaner-Bloser National Handwriting Contest website: zaner-bloser.com/national-handwriting-contest/about-contest 
Contest News Release
Zaner-Bloser Announces Winners of the 31st Annual Zaner-Bloser National Handwriting Contest
The Yearly Contest, Which Draws Tens of Thousands of Entries, Celebrates Students' Mastery of and Appreciation for Handwriting
COLUMBUS, Ohio (May 12, 2022) — Educational publisher Zaner-Bloser has announced the winners of the 31st annual Zaner-Bloser National Handwriting Contest, the longest-running and best-known handwriting competition in the U.S. The list of winners includes 20 students from 15 states, including three who won in previous years.
The 20 winners in kindergarten through eighth grade were selected from more than 2,650 entries submitted by schools. Approximately 75,000 students participate at the school level each year. Since the contest's inception in 1991, close to 2.5 million students have participated.
All of the winners have very personal reasons for wanting to write by hand. Here are some responses to the questions on the entry form, "What do you like best about writing?" and "How does handwriting make you a better reader and writer?"
"You can make up your own stories." — Kindergarten winner
"Handwriting is fun to do." — First grade winner
"… I like to write about my feelings." — Second grade winner
"Handwriting makes you a better student." — Sixth grade winner
"Handwriting helps me … express my thoughts and ideas." — Eighth grade winner
Whatever their reason, these students work hard day in and day out to excel at a skill that many parents and educators believe will benefit them long after they leave the classroom. That's why Zaner-Bloser continues to run the handwriting contest year after year. As a well-known publisher of handwriting and other learning materials for elementary classrooms, Zaner-Bloser recognizes the value of handwriting instruction.
"We know from research that handwriting offers several benefits to children that can support cognitive development and bolster academic outcomes," said Lisa Carmona, president of Zaner-Bloser. "The Zaner-Bloser National Handwriting Contest encourages the teaching and use of print and cursive handwriting in schools across the U.S. and recognizes students for their commitment to this lifelong skill."
Each year, students in kindergarten through second grade compete in the manuscript category, while students in third through eighth grades compete with cursive writing. The contest also includes a category for students with special needs: The Nicholas Maxim Award, named in honor of a past participant whose passion for writing inspired the award, is open to students with cognitive, intellectual, physical, or developmental disabilities who excel in manuscript or cursive.
Participating public and private schools hold their own handwriting competitions and choose a winner in each grade. School grade-level winners then compete against each other at the state level. State-level winners in each grade move on to the national competition, where judges select nine grade-level grand national champions and nine grade-level semifinalists.
All students write the required sentence, "The quick brown fox jumps over the lazy dog," because it contains every letter of the alphabet. Judges select winners based on Zaner-Bloser's four keys to legibility: the shape, size, spacing and slant of the letters.
2022 Grand National Champions
Kindergarten — Alessandra Luna, Epiphany Catholic School, Miami, Florida
First Grade — Liam Nanquil, St. Joseph School-Fullerton, Baltimore, Maryland
Second Grade — Kylee Cleverley, John Hancock Charter School, Pleasant Grove, Utah
Third Grade — Adam Mason, Valley Christian Academy, Santa Maria, California
Fourth Grade — Apollina Recupero, St. Anthony School, Kailua, Hawaii
Fifth Grade — Chanie Zhao, P.S. 229 Emanuel Kaplan School, Woodside, New York
Sixth Grade — Annie Scandrett, Murray County Central Elementary School, Slayton, Minnesota (Annie was the fifth grade semifinalist in 2021.)
Seventh Grade — Peyton Faller, Mother Seton School, Emmitsburg, Maryland
Eighth Grade — Julius Dresser, St. Louise de Marillac School, Pittsburgh, Pennsylvania
Each Grand National Champion receives an engraved Zaner-Bloser trophy and a $500 check. Their schools receive a $1,000 Zaner-Bloser product voucher and a certificate of achievement handcrafted by master penman Michael Sull. The winners' teachers also receive a handcrafted, personalized certificate.
2022 National Semifinalists
Kindergarten — Collins Corbin, Horizon Christian Academy, Cumming, Georgia
First Grade — Riana Patel, D.A.V. Montessori & Elementary School, Houston, Texas
Second Grade — Charlotte Gouveia, Divine Mercy Catholic Academy, Johnstown, Pennsylvania
Third Grade — Brayer Stanley, Lehman-Jackson Elementary, Lehman, Pennsylvania (Brayer was the second grade semifinalist in 2021.)
Fourth Grade — Drake Becerra, Saint Theresa Catholic School, Ashburn, Virginia
Fifth Grade — Caroline Gross, St. Joseph School, York, Pennsylvania
Sixth Grade — Natalie Bode, Emmanuel Lutheran School, Tempe, Arizona
Seventh Grade — Noah Jebaraj, Valley Christian Academy, Santa Maria, California (Noah was the sixth grade semifinalist in 2021.)
Eighth Grade — Cheyenne Knoll, Tipton Community School, Tipton, Kansas
Each semifinalist receives an engraved Zaner-Bloser trophy. The semifinalists' schools and teachers receive certificates of achievement handcrafted by master penman Michael Sull.
Nicholas Maxim Award Winners
Manuscript — Damian Jacobo, Valencia Elementary School, Portales, New Mexico
Cursive — Christian Moore, St. Jerome Elementary School, Cleveland, Ohio
Damian and Christian will both receive an engraved Zaner-Bloser trophy and a $500 check. Their schools will each receive a $1,000 Zaner-Bloser product voucher and a personalized certificate handwritten by master penman Michael Sull.
"Research has shown time and time again that handwriting has a positive effect on children's learning, providing many benefits that support cognitive development and improve academic outcomes."
Lisa Carmona
President of Zaner-Bloser
"People are recognizing that handwriting is not a lost art but a necessary lifelong skill that has a significant impact on students' academic performance and success."
Lisa Carmona
President of Zaner-Bloser
How does the Zaner-Bloser National Handwriting Contest work?
with Zaner-Bloser President Lisa Carmona
About Zaner-Bloser
Zaner-Bloser is an educational-solutions company that specializes in delivering explicit instruction and a solid academic foundation for PreK–6 students. With more than 125 years of experience, Zaner-Bloser offers rich curricula and resources, including Superkids, Spelling Connections, Zaner-Bloser Handwriting and Jump Into Writing! As a member of the Highlights Family of Companies, we strive to always do what's right for children and to make a significant contribution to their education today—and in the future. Visit zaner-bloser.com for more information.